Need help finding an album printing company?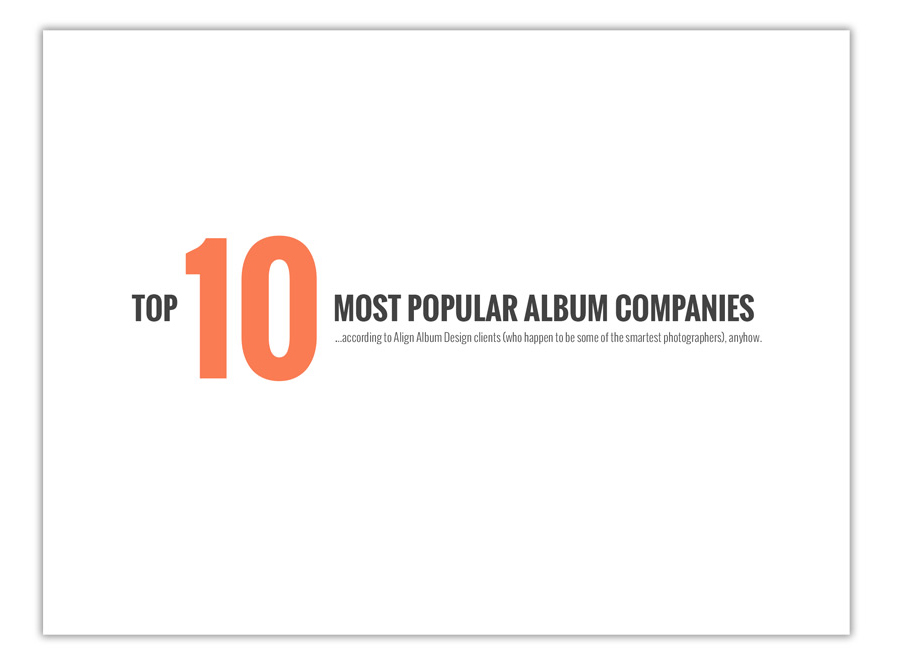 Here at Align we get questions all the time from photographers who are just starting to offer albums to their clients about which album companies we recommend. Choosing an album company for printing and binding can be a daunting task. After all, there are over 100 out there to choose from -- all with numerous album styles and options. It's completely overwhelming -- where does one even START!?
Advertisements and the websites of each album company only tell you so much. One of the most best ways to find out which companies stand out from the rest is to hear from photographers who have already done the research and are using the companies themselves. We tabulated which album companies Align clients use the most and have put together a
Top 10 Most Popular Album Companies
resource guide to share which companies are most popular among our photographers!
Included in the guide are testimonials from photographers who use each company and a general price range for what each company charges for a 10x10 album. These companies did not pay to be on this list, and many of them probably don't even know that they earned a spot here. We wanted this list to be based on the real data so it could be as helpful as possible.
You can download the guide by
clicking here to sign up for a free (yes, completely free) account with Align
. You'll immediately be emailed the
Top 10 Most Popular Album Companies
PDF as a welcome gift!
There's no order or commitment required -- just that quick account creation!
Or if you already have an existing Align account and want a copy of this resource guide, you're welcome to
email us
for a copy.
We know there are so many amazing album companies out there besides just these 10, but we hope this guide gives you a head start on your research! Best of luck finding the album company that is right for you!