Tips & Tricks For Photographing Your Albums
Hey guys!
Melissa Jill
here, owner of Align. I am going to go out on a limb and say that if you are finding yourself reading this blog, you have reached the juncture in your business where you offer albums or are highly considering it. Such a wise move! Offering this service will be sure to increase your value as a photographer if you are committed to doing it well. If you've been doing this for a while, you've probably gotten really comfortable with
sharing your passion for albums
with every client you work with. You've mastered the art of a
speedy workflow
and effective client communication. You might be considering, perhaps even taken the leap, to
outsourcing the design work
in order to free up your time for other important endeavors. All of which has brought you to the point of holding some incredibly beautiful wedding albums in your hands! Yay! So, now what? You want to think of all the different ways you can get clients familiar with the idea of albums and how valuable they are, right? One way to do this is to photograph the albums your clients purchase and share them on your blog and social media platforms. But how does one photograph an album in a way that amplifies its beauty and showcases just how valuable it is? Where do you begin with such an undertaking? You have come to the right place, friends!
There are a few different things to consider when approaching the task of photographing albums. First,
as a photographer myself,
I know your time is limited and valuable. Photographing albums, while worthwhile and beneficial, is not something that should take up a ton of your time. In an effort to demystify the process of photographing albums, I am excited to share a short video that
Abby Grace
was kind enough to create for us on her album photographing strategy. It is both simple and efficient. Two things every photographer could use more of, am I right?
We LOVE how Abby has systematized the process of photographing each of her client albums! How simple and efficient is this?
By way of review -- here is a list of Abby's 5 Steps to an Efficient Album Photo Shoot:
1 -- Set up your tripod with camera pointed straight down at a 90 degree angle. Make sure you are in an area with plenty of natural light!
2 -- Create a make-shift reflector. Use 3 white foam poster boards taped together to make a 3/4 reflector. This helps to lessen those pesky shadows on images.
3 -- Place a cheap, flimsy white poster board directly underneath the camera and lay the album on top of it for a clean backdrop.
4 -- Put your camera on "live preview" mode to make sure everything is lined up evenly and completely flat. This will minimize the post-production cropping/editing.
5 -- Once everything is nailed into focus, turn the camera to manual focus to take the first photo. Without moving the camera at all, turn the page and take the next photo. Move through the entire album this way. Since everything is composed exactly the same way, you can batch the images and apply edits to the entire batch. Everything is super automated and easy with this system, which makes it possible for you to shoot 3-4 albums within 20 minutes!
You can see just how clean and lovely the outcome of this process is by visiting some of
Abby's finished work
that we've featured here on our blog in the past!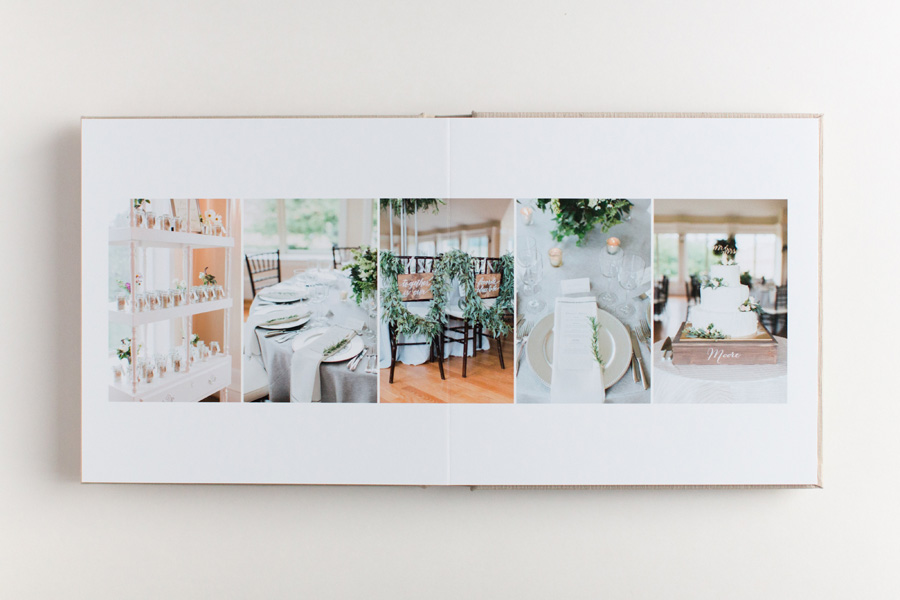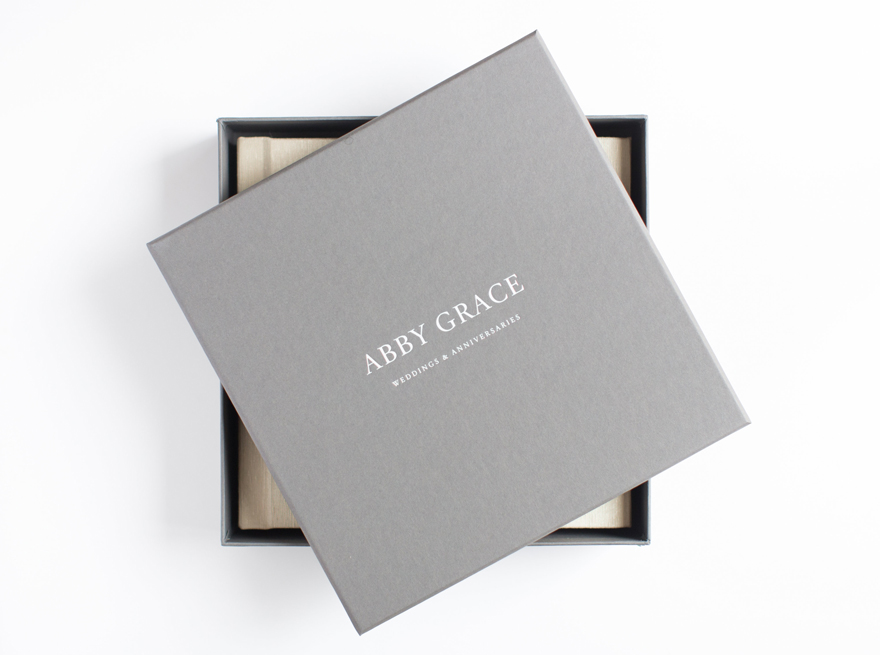 above image by Abby Grace Photography
While the above method is super-efficient and simple, there are also other ways to creatively style your albums that can really show off their unique features and personalities. Here are just a few that we love:
1 -- Use a textured background to add depth and character to the image. An album placed upon something that has its own shadows and light can really enhance the beauty and simplicity of the album. Some great materials to utilize are wood, tulle or textured fabric.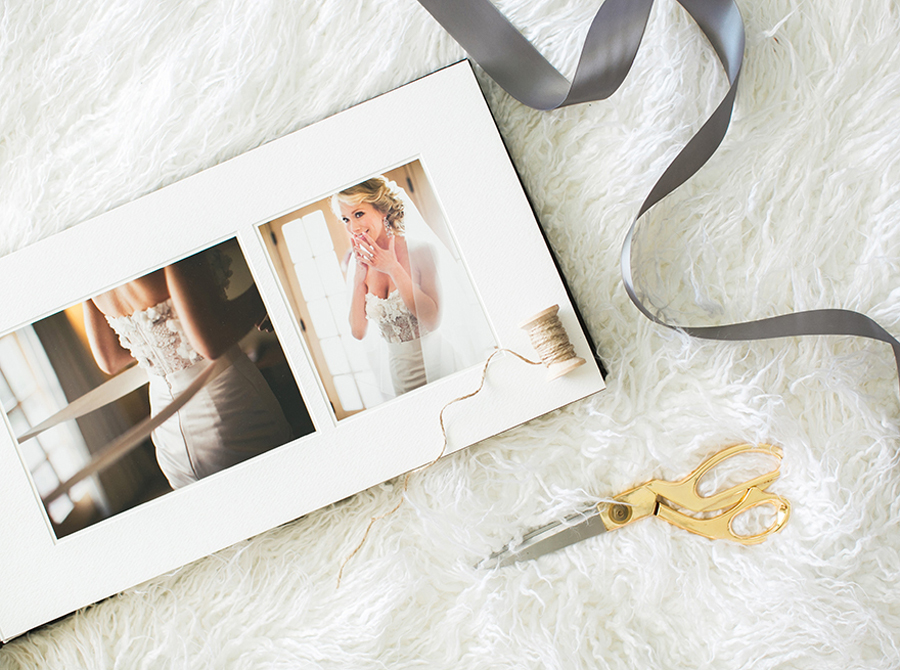 above image by Melissa Jill Photography
2 -- Try posing the album! Photograph the details at different angles. Take some shots of the album standing up, where the pages are showcased. Take some close ups of the cover, and the fine details of various pages. Get creative with perspectives! Sometimes just showing portions of the spreads along with a textured background creates a strong, appealing image.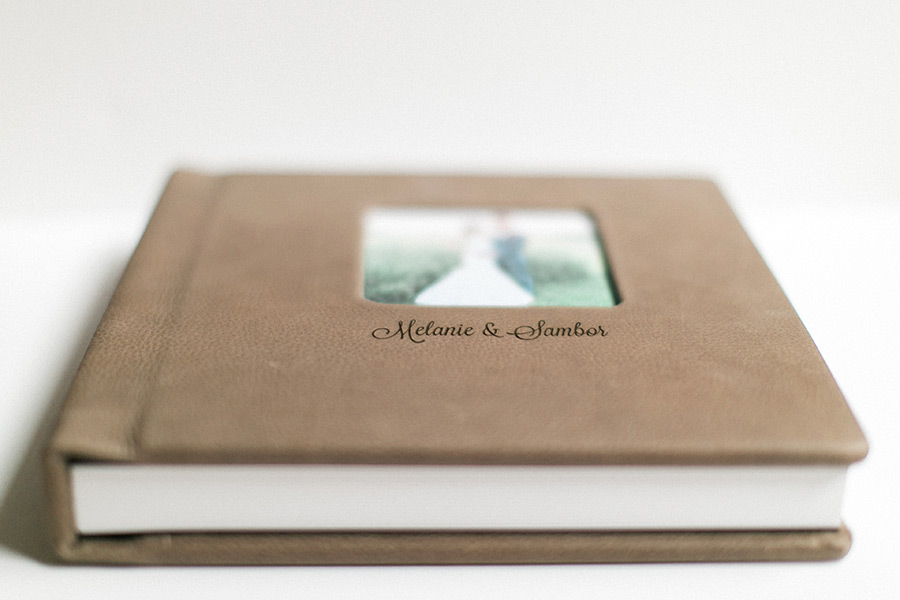 above image by Brittany Thomas Photography
3 -- Add props to make it more interesting. Try setting up the album within the box it came in, along with some tissue paper and ribbon. Some other ideas would be to use cover fabric swatches, flowers, leaves, pine cones, etc. Using an actual detail from the wedding is also a way to help tell the story held within the pages of the album.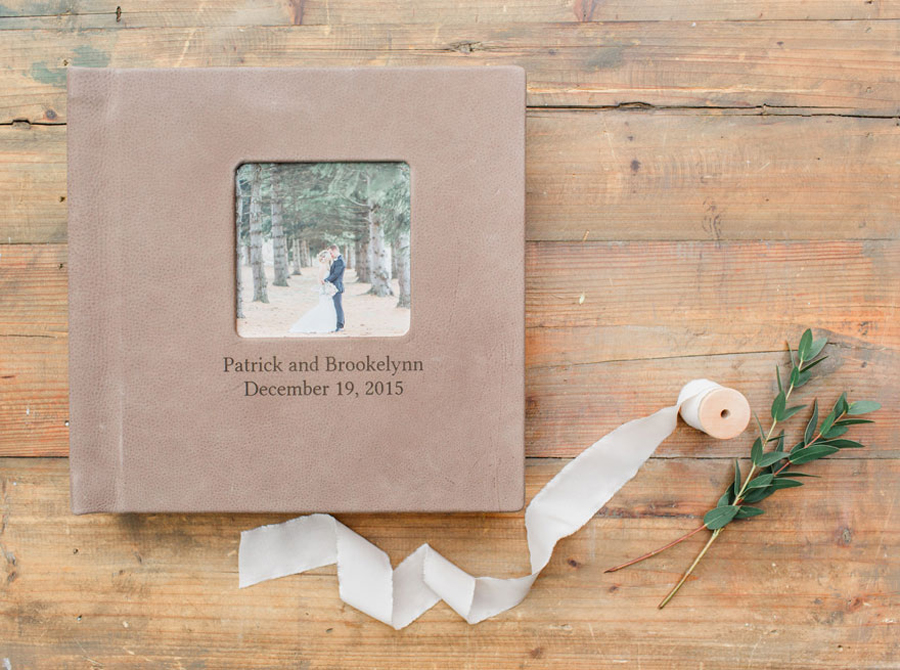 above image by Caroline Logan Photography
4 -- Photograph the album fulfilling its purpose. Which means, take pictures of someone sitting down with the album and pouring over the pages. You can add texture with a blanket or some kind of fabric within the shot. This not only adds depth and dimension to the image but also personalizes it and invites the viewer to imagine themselves cozied up with their very own album, soaking in the memories they will treasure for life!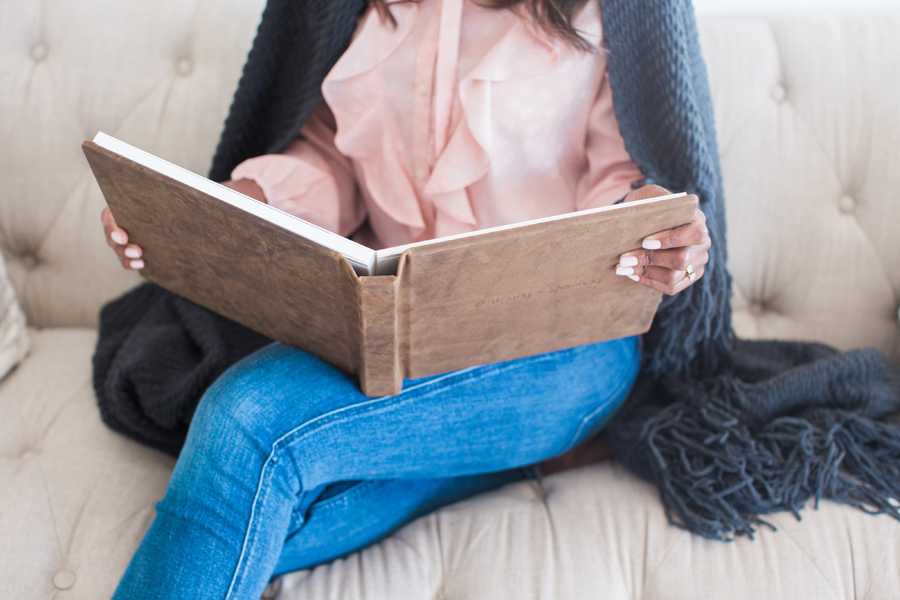 above image by Melissa Jill Photography
5 -- Use blank space and the rule of thirds. The album doesn't need to be centered perfectly and doesn't need much more than it's own beautiful face! Try holding the album up against a white wall where you include the hands of a nearby willing person as props! This creates a very clean and simple image, where the album is the star of the show and the minimalistic approach is appealing.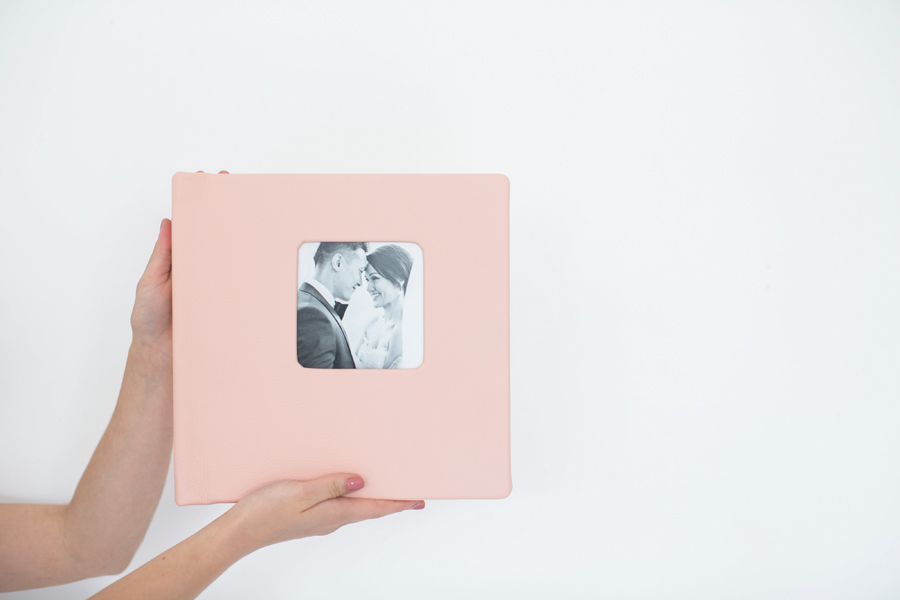 above image by Melissa Jill Photography
Photographing albums doesn't have to be an overwhelming or time consuming task. In fact, with a little bit of intention and creative thought, it can be kind of fun! Plus, the benefits of featuring a gorgeous album in a truly appealing way can be enormous! Just like
sharing sample albums with our clients
during an initial client meeting, consistently sharing each clients' album through visually stunning images can be so helpful for getting clients to value them as much as we do!
If you found this post helpful and would like to receive tips like these straight to your inbox,
click here to sign up!