Learn About Our Hands-Off Service
Imagine this. You outsource your album design to an expert who knows exactly what you like and truly wants to make your life easier. You have a designer who is self-sufficient and rarely bugs you for anything beyond confirming your order. Your client gets step-by-step instructions from your designer walking them through the revision process, all the while thinking they are working with your in-house designer and never seeing anyone else's logo but your own. You don't have to deal with any of your client's pickiness and remain blissfully uninvolved during any lengthy revision process that ensues. You are simply notified when your client pushes the "approve" button and the design is finalized and ready to send off to your printing and binding company.
Ahhh, yes. That's the dream.
And today that dream comes true.
Even if you've found a way to quickly whip up album designs (perhaps it already involves outsourcing to your speedy Align designer!), it's likely you still feel daunted by all the communication, revisions, and project management that goes along WITH the album design process. Unfortunately not every client is going to approve the beautiful initial design on the spot! The little tasks can add up -- sharing the proof with your client, sending reminder emails, grabbing revision images that are needed to make their changes, figuring out what-in-the-world your client wants, being the middleman between your client and your designer, notifying your client that the revisions have been made, remembering what point you're at in the process....
and repeat!
That's why we're pumped to announce a service that takes outsourcing album design to a whole new level that means even LESS for you to do! With our newly upgraded Hands-Off Service, your designer will be communicating directly with your client AND grabbing revision images from the full gallery of images. You only have to be involved when you want to be! Here's how it works:
1 -- When placing an order using
Align's order form
, select the
Hands-Off Service
and fill in the corresponding fields with your client's name & email address, your
AlbumExposure
login information, and who you'd like the first draft sent to.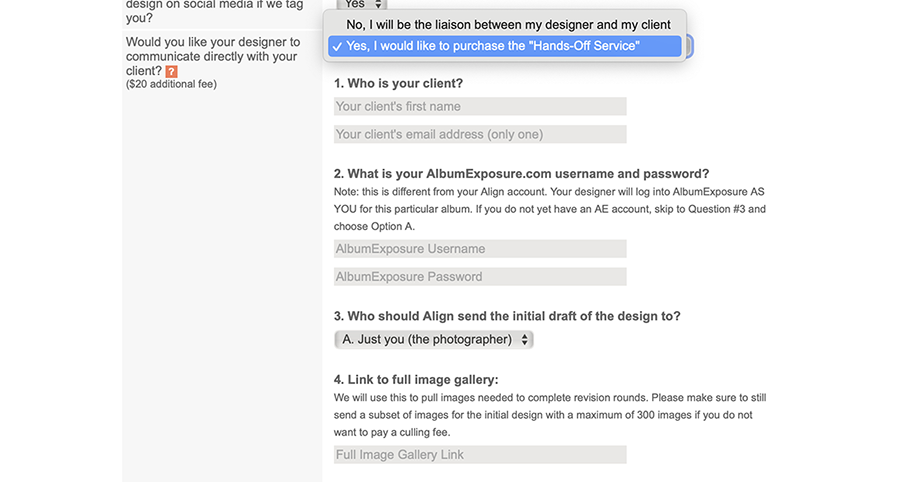 2 -- Pay a nominal $25 fee to cover the cost of the Hands-off Service for each order.
3 -- Sit back and drink a margarita. Or you know, do all the other gazillion things you do to grow your business and serve your clients.
Once you give us the go-ahead to involve your client, we'll log into
your
AlbumExposure account and take care of the rest! We'll send your client the link to the initial design and welcome them to the process using
this message
(you're welcome to request customizations to it!). And because we're sending the message through your AlbumExposure account instead of using our Align email address, your client will probably just assume we're your in-house designer sitting in the desk next to yours!
Throughout the revision process, your client and your designer will communicate directly with each other. If your client has mind-boggling revision requests, you can just sit back and smile knowing that your designer will be on top of it! We'll grab any images needed throughout the revision process from your full image gallery hosted on Pixieset, Cloudspot, PASS, or any other image-hosting software you have chosen no use and will even periodically follow up with your client if they need an extra nudge to revise or approve their design!
You'll be CC'ed on most messages, but no need to join the party unless you feel like it!
We hope you're as excited as we are about this upgraded custom-level service! We look forward to taking even more off your plate so that you can focus on what you do best!
-----------
Blog post written by:
Denise