Things you didn't know you can do with Align Album Design!
Whether you're new around here or you've been outsourcing your album designs to Align since 2012, we bet there are features and services that you didn't know we offered. So today we're compiling a list of some of the lesser known tips and tricks for using our design service. Tell us in the comments which ones come as a surprise to you! We're guessing that everyone will have at least one!
You can...
1 -- Specify a RANGE for the spread count
There are two boxes on our design order form that help you indicate how many spreads you'd like in your design. One in which you choose "exactly" or "approximately" and one in which you write a number. We will always interpret "approximately" to mean +/- 2 unless you tell us otherwise. Example: if you choose "Approximately 15", we will design somewhere between 13-17 spreads. But did you know you can be even more specific? You're not limited to writing a single number on the form, so oftentimes it's more helpful to write a
range
in that box. You could write "Exactly 15-16" if there's only a tiny bit of flexibility or "Exactly 15-30" if you're okay with however many spreads end up best telling the story of the day.
2 -- Send us samples of designs you like
Here at Align, we're big advocates of photographers communicating their personal design preferences to their designer. While we have 3 base
design styles
you can choose from on your album design order form, we're happy to customize to your tastes! But if you're having trouble coming up with the right words to
tell
us what you like, feel free to
show
us! You can share previous albums you've designed yourself, designs you've seen in the
Featured Album Designs category of this blog
, images from Pinterest or Google searches, or samples from photographers you admire!
3 -- Request your favorite designer
We keep your design preferences on file so that your needs are met no matter which designer you are working with, but if you happen to fall in love with one of us (which happens frequently!) we will pair you up with your preferred designer whenever their availability permits. To make a request, either write your preferred designer's name in the "Additional Notes" section of your album design order form or
email
our General Manager saying that you'd like to always be paired with that designer.
4 -- Ask for a list of images that were left out of the design
Do you have a client who picked out wayyyyyy too many must-have images for their album? You don't want to disappoint your client, but you also don't want to create an over-crowded ugly design. Try telling your client that you'll be leaving out some of the photos, but they'll have chance to review the list of unused images during revision rounds. Clients often
think
they need a bazillion images in their album, but then once they see how well their story is told through the initial design, they have much better perspective about which images are truly crucial and which are repetitive/unnecessary. To request this list from your designer, write something in the Additional Notes section of the album design order form such as "This client has a lot of favorite images, so feel free to use slightly more than usual. Please send me a list of the unused images after you've finished the initial design."
5 -- Avoid being the middleman during revisions
We offer a
Hands-Off Service
in which your designer communicates directly with your client throughout the whole album design process as if they were your in-house assistant. You only have to be as involved as you desire during crazy revision rounds, which is especially handy if you're in the middle of busy season when the extensive revision requests roll in!
6 -- View previous versions of the proof
AlbumExposure
(the album proofing website we partner with) recently added a new feature that lets you view past versions of a design. When available, you can review old layouts and previous comments by using the dropdown menu in the upper right corner of the album presentation screen that says "Current Version". We especially like the "Full History" option when you want to view the latest layouts alongside the previous comments.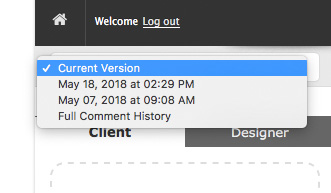 7 -- Check on the status of your album designs
Ever wonder how many revisions you've already used on a particular album design? Or need to remember if the ball is in your court or ours? You can check on the status of any design order by logging into your Align account and going to your
Order History page
. If the status says "Initial Design Sent" or "Revision #", it indicates that we've sent you the latest version and it's ready for you or your client to request changes (or hit approve). If the status says "Awaiting Revision", it means that we've received the revision comments and your designer is working on the updated version. And if there's a big orange box, it'll explain why the revision round is currently paused.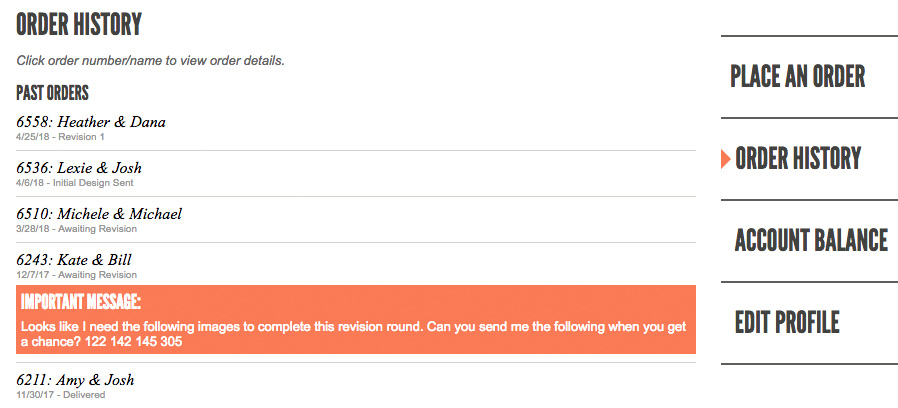 8 -- Use unused revision rounds toward parent albums
You get three revision rounds included with the price of every album design order. After the original design is approved, you may utilize unused revision rounds to further revise the design for use in a parent album at no extra cost!
See this post for a full list of parent album design strategies.
9 -- Skip the back-and-forth of invoicing
Our default workflow is to send you an invoice after your album design is approved so that you can log into our website and pay the remaining balance yourself. But if you'd like to skip these extra steps, there are two ways to automate the process. 1- You can Authorize us to automatically charge your saved credit card (find this setting at the bottom your
Edit Profile
page). 2- You can pre-purchase Align Credit (in any amount) on your
Account Balance
page which will be automatically applied to your future balances. And a bonus perk is that is you can...
10 -- Save up to 30% by pre-purchasing Align Credit in bulk
We offer three levels of discounts (10%-30% savings) based on how much credit you pre-purchase.
See the details here.
Align Credit can be purchased on your
Account Balance
page after login or whenever you place your next order. Your credit NEVER EXPIRES, so if you know you will have a lot of design orders coming through your studio in the upcoming months and years, purchasing bulk credit is a no-brainer!

11 -- Receive your final files in multiple file formats
Our album design order form asks you to pick ONE of the following final file formats: flattened JPG, Photoshop PSD, InDesign IDML, or PDF document. However if you would prefer to receive TWO different sets of final layouts, just ask your designer! We understand that many photographers prefer to receive print-ready JPGs they can send immediately to their album printing company, but they still want to have a more editable file type saved in their archives to cover those just-in-case scenarios. If that's you, just let us know which file formats you'd like to receive and we'll let you know if it's possible (not all formats are compatible).
12 -- Guarantee that you earn referral credit
You may already know that you can earn $50 of Align Credit if you refer a friend to Align and they remember to mention your name upon signup. But did you know that you also have a unique referral URL that will
automatically
fill your name into the "How did you hear about us?" spot for anyone who has clicked that link? That means that you can earn free credit from strangers you give advice to in a Facebook group, from your blog readers who may not have associated you directly with the referral, and from the emails you send to someone who would have just left the referral field blank. Find your unique link in the right sidebar after you
log into your Align account
.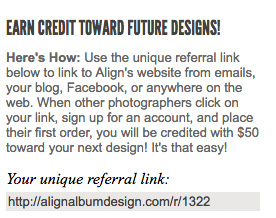 We hope you find these insider tips and tricks helpful!! Are there any you didn't know before? Or were you already an Align whiz? Tell us in the comments!
-----------
Blog post written by:
Denise