Never wait on clients to pick album images again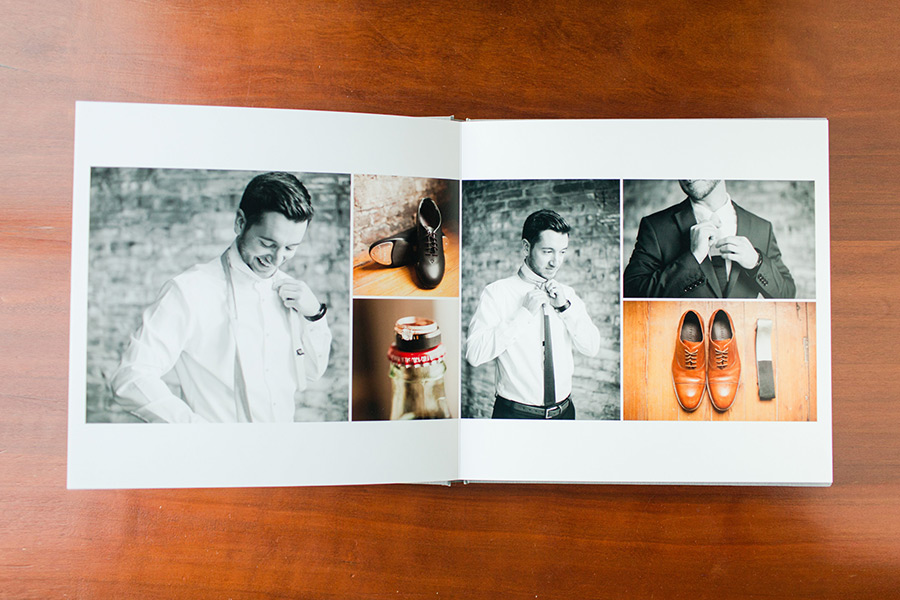 photo by Kaitlyn Phipps Photography
I remember the first few albums that I designed -- I waited for my clients to pick the images they wanted included. I waited. And waited.
And waited a little longer.
I remember one client in particular couldn't get around to picking their images because they were busy moving into a new house. Then they took a trip to Disneyland. Then work took over and the task got pushed to the back-burner. Then finally they emailed me in the middle of October -- six months after their wedding -- to give me the exciting news: They had finally picked the images for their album! One thing you need to understand to get the full impact of this story is the Arizona wedding season. We are completely different than everywhere else in the country -- no one gets married in the summer here unless they are crazy. Our flesh physically melts off our bodies if we are outside for longer than 5 minutes in the summer months. Our busy seasons are the fall and spring. And our busiest month in the fall? October. So all summer I waited for my clients to choose their images and when they finally did, I no longer had the time or energy to devote to their album needs.
Have any of you had a similar experience when waiting for your clients to pick their images?
My theory is that this task is just too overwhelming for our clients. And I have come to believe that we are asking too much of them if we structure our album workflow in this way.
Instead, I believe my clients are better served if I choose the images and have their album pre-designed for them.
There are a number of benefits to pre-designing:
1 -- Our workflow is not held up
by waiting on our clients to pick images. The initial album design can be done like clockwork for each wedding -- within a week of the wedding date.
Here are some tips for picking album images quickly
.
2 -- It makes life easier on our clients.
It's a much more manageable task for our clients to make image swaps to an existing design than it is to narrow down hundreds of images to a select few for the initial design.
3 -- The design ends up being much more beautiful.
When the photographer or designer picks the images as they are designing, the design ends up being much more cohesive and lends itself to telling the story of the day. If a designer needs to use all of the images chosen by the client, it can be like trying to fit pieces of a puzzle together that just don't fit. The resulting design often ends up unbalanced, and the story fragmented.
So there you have it! Three excellent reasons to never wait on your clients to pick album images again.
In my initial client meetings I always explain our album workflow process to my clients as they are looking through samples. I let them know that as a service to them, we will design their album with our favorite images in a way that we think best tells the story of their day. Once they see the design, they are able to make image swaps to make it perfect before we place the order. I let them know that we've found it's much easier for our clients to make changes to an existing design than it is to select the images they want included without knowing what the design will look like. Every time I explain our process in this way the clients nod in agreement and understanding. And pre-designing has forever cured the hang-up I used to experience in my workflow while waiting on clients to pick their images.
Hallelujah! Pre-designing for the WIN!!
And if you use Align to pre-design your albums, we suggest sending us a folder of your favorite images as well as a folder of additional images to pull from that might include family portraits or more reception photos. When you fill out our order form, be sure to mark "Select images that best tell the story" next to the number of images you are sending in order to give your designer some freedom to create the most beautiful design.

Your designer will then use your favorite images as focal points throughout the design, which will ensure that you love the result. Then you can use your first round of revisions to make any changes before sending it on to your clients. They will then have two remaining rounds to use for their image swaps.
Life simplified. Boom.
To hear from
another
photographer about why this method works for her, check out this blog post:
Sharon Elizabeth on Album Image Selection
.
If you found this post helpful and would like to receive tips like this straight to your inbox,
click here to sign up!
And exciting news! If you're a photographer who wants to start offering albums without investing hours of guesswork and trial and error -- we have a solution for you!
Check out the Album Start-Up Kit
and start maximizing your profit today!