Sharing Your Passion For Albums On Your Website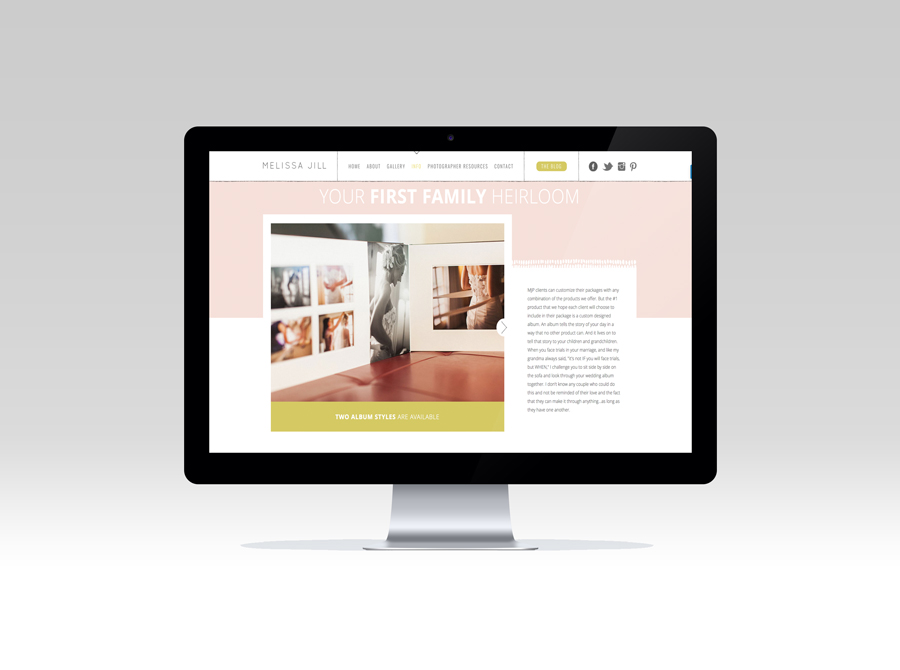 So many photographers struggle to get their clients to value albums enough to buy one. The reality is that if we want to sell albums, we need to tackle this challenge of establishing the value of an album in the minds and hearts of our clients head on.
I've addressed this in a past post by offering
Four Tips for Getting Your Clients to Value Albums and Buy One
. And in essence, they all come down to communicating your own PASSION FOR ALBUMS.
Today I want to talk specifically about one of the best ways we can do this: Creating a spot on our websites just for albums!
Adding an album section to your website can be a quick and easy task. It can be as simple as constructing a blurb on your "Info" page like
I have done for my photography business.
I can easily point my audience toward this information within various blog posts in which I reference albums. This helps reinforce my passion for albums to potential clients because chances are when they search for package and pricing information, they will see the album page and will understand up front that a wedding album is the number one product I most want my clients to walk away with. The thought of purchasing one will already be a seed planted in their minds before they even meet with me!
So, what all should this designated page on your website include?
Here are 5 important things to incorporate when sharing your passion for albums on your website:
1 -- Your "WHY"
Whether you are talking about albums in your initial client meeting or are communicating this product/service to your clients through a different avenue, your WHY is
always
going to be important. I truly believe that an album tells the story of a wedding day in a way that no other product can and lives on to tell that story for generations to come. I make sure to share that belief with my clients throughout my interaction with them in various forms. I encourage you to know exactly what it is you value about albums and then build a strong, clear expression you can share with your clients, both in person and on your website!
Feel free to check out my website for some inspiration!
2 -- Album Options
While I believe it is wise to
keep your album options simple
, I also believe it is important to communicate those options in a way that is easily understood. Spelling out
exactly
what you offer frees up everyone from unnecessary overwhelm. I have picked out one album size, one cover option and one paper type that I LOVE from my album company, had a sample album created with it, and that is one of the two options I give my clients. The other option is a completely different album from another company -- again with one size, one paper type, and one cover option. Whatever
your
album options are, showcasing them clearly and in an easily consumable way will make choices easier on your clients!
3 -- Noteworthy Details
If there are any specific details that deserve a special shout out for each of your album options and/or the album company you use, this is a great place to do so! For example, when sharing about the
Queensbury
album option I offer my clients, I mention it is a high end, leather covered album that is custom made in New Zealand. I also highlight specific distinguishing features such as the textured white matte pages of the album. Each album is unique and has special characteristics that might attract potential clients. This designated space on your website is a great place to highlight these features!
4 -- Additional Album Options
Are
parent albums
an option within your packages? Gift books? These are all things that are worth mentioning when sharing your album information and all the various options available for purchase on your website. The more you can educate your potential clients about what is available to them within your products and services, the better!
5 -- Album Images
When it comes to helping clients visualize the product you are hoping they will purchase, words can only do so much. Using high quality images that show off the beauty of your albums is essential! It is the online equivalent to sharing your
sample album
at the initial client meeting. If you are in search of inspiration for some ideas on how to take photographs of your albums efficiently, look no further than
this post where I share some fun tips and tricks for photographing your albums!
Hopefully this has helped give you some good ideas on what is important to include on your website in order to communicate your passion for albums effectively!
If you are new to albums all together and could benefit from even more help creating an album page on your website,
check out our Album Start-Up Kit!
Included in the Kit is text you can customize for your website and blog. Use our worksheet to help you develop your own personal "why" that will serve as a compelling way to communicate the value of albums to your clients, and then choose between one of two copy-and-paste text options that effectively overcome the common question of why albums "cost so much" in a non-salesy way.